films
Flying Monk Talk Show presents lesson 2 of a new series! A short tutorial with Song style Xingyiquan expert Suen Ming on power development in Song style Xingyiquan. (宋氏形意拳)
Song style Xingyiquan is a practical traditional martial system of northern China which develops a very unique type of explosive, springy short power, using the characteristic loose-tight-loose principle found in the art.
In this the second of many tutorials to come, the Hong Kong based Song style expert Suen Ming teaches about power development in Song style Xingyiquan. (宋氏形意拳)
If you are interested to train this powerful fighting art in the UK, or our Xingyiquan video training courses, contact us
Warrior Guards the Mountain – Shihan Tanaka, Daiwa Ryu Jujitsu, Acupuncture and Zen
Warrior Guards The Mountain
Legacy of the Satria Warriors
Episodes One and Two
These unique documentary films reveal the life story and teaching of Paul Rogers, an English martial arts expert who has spent three decades studying as the closed-door student of the old generation of internal fighting masters in Malaysia and in Tianjin, north China.
The films explain the inner principles, forms, training methods, fighting techniques and history of Wu style Taijiquan, Baguazhang, Xingyiquan and Yi Quan, combining personal interviews, technical demonstrations and hands-on applications with the interviewer Alex Kozma.
These first two films also recount the story of Paul's 12 year old son Coltrane, the Bagua boy, who has trained Baguazhang since the age of 5.
These are the first two in a projected series of films with this highly skilled fighting expert.
There is nothing comparable on the market, these are films for those seeking depth of principle, clarity of form and real useage, and the fascinating historical and cultural context within which these powerful arts have been nurtured.

Based on the critically acclaimed book by Alex Kozma, 'Warrior Guards the Mountain Film Documentary', presents the adepts of the book and brings us into a world of healing, spiritual and martial traditions of masters from Asia and the West.
Each master has for the first time allowed his personal practice, teaching and school to be filmed in a unique and groundbreaking project which seeks to combine in-depth research into the various arts with explorations into the cultural and transformative aspects of practice.
In the first film of the series, author and film-maker Alex Kozma brings us into the world of four outstanding experts of totally different traditions: The Urban Daoist of Paris, Serge Augier, master of the 1300 year old Daxuan lineage of Daoism; Shihan Eiichi Tanaka of Osaka, Japan. An exceptionally gifted master of traditional Japanese medicine and Daiwa-Ryu martial arts; Drida, living an hermetic existence in the hills and caves of Wales, an adept of meditative cultivation, western herbal medicine and a crafstman of bows and blades using the methods of the ancient Asian weapon-smiths; and Pendeker Steven Benitez, a renowned expert of the Indonesian fighting art of Pencak Silat.
Warrior Guards The Mountain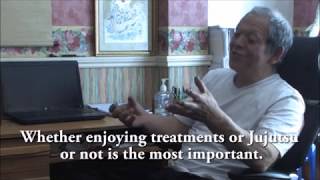 Warrior Guards the Mountain – Shihan Tanaka, Daiwa Ryu Jujitsu, Acupuncture and Zen
Warrior Guards The Mountain – Serge Augier
Warrior Guards the Mountain – Legacy of the Satria Warriors